Namaste and welcome! A space dedicated to yoga, meditation, yoga retreats, and all things related to unveiling the light within.
This is a place where you can find peace, harmony, and joy. Whether you are a beginner or an expert, you will find something for you here. You can learn new techniques, practice with others, or simply relax and enjoy the benefits of yoga and meditation. You can also join us for our amazing yoga retreats, where you can immerse yourself in nature and connect with your inner self. We are a friendly and supportive community, and we invite you to join us in this journey of self-discovery and transformation.
As well as scheduled classes, Magdi also holds 1-day yoga workshops, and 7-day yoga retreats (residential), within the beautiful gardens, and poolside, at La Petite Guyonnìere. If the weather is less than kind there is also an indoor yoga studio.
Magdi is an RYT-500 Yoga Alliance registered yoga teacher, mainly instructing in English and French. However, she can answer your questions in Hungarian, German, Spanish, and Romanian. Currently, her yoga classes take place in and around Apremont and Challans in Vendée, France.
Depending on the class and the intentions, she balances and rounds out the sessions by starting with meditation, usually, breath awareness, or with Pranayama, followed by the postures called asanas and finishing in Savasana with a deep relaxation or Yoga Nidra. Classes that include postures/asanas are usually 75 minutes long. Meditation and Yoga Nidra classes tend to be shorter than that.
In 2017, I became a multi-style yoga teacher (Hatha and Ashtanga Vinyasa yoga along with Vinyasa Flow) in Goa, India. At the time, the focus of my own practice was Yogasana along with Pranayama centered around Ashtanga Vinyasa Yoga, which I started 4 years before.
In 2018, I extended my yoga education with an additional first-level teacher training course in Costa Rica focused on self-healing and the Higher Self, and with Yin Yoga relating to the 5-phases theory (5 elements) and their meridians in Traditional Chinese Medicine, in the Netherlands.
2019 brought me further opportunities to follow an additional Yin Yoga and Yoga Nidra training in Goa, as well as an immersive Ayurveda and its 5-elements (one-to-one) training at a Panchakarma Institute in Kerala, Southern India.
Hatha flow, Pranayama, Yin Yoga, meditation, and Yoga Nidra have been the main focus in my classes, with an ever-increasing attention on meditation and self-inquiry.
Read more on her website:  www.magdibarabas.com
Autumn Yoga Holiday Weekend in Western France: Yoga, Qi gong, and more.
Friday, 20 September 2024 4:00 pm to Monday, 23rd September 2024 10:30 am.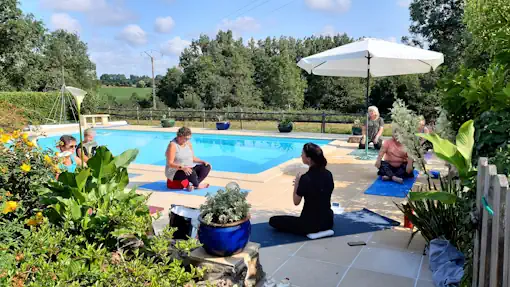 Join us for a refreshing weekend retreat as we welcome the change of seasons with grace and harmony. This weekend will offer you a chance to relax, rejuvenate, and reconnect with yourself through various yoga practices (yin/yang, yoga nidra, pranayama, and meditation), qi gong, and other activities that aim to deepen your awareness and well-being.
You will enjoy the serene and beautiful setting of La Petite Guyonnière, where you can swim in the outdoor heated pool, walk in the countryside, or simply rest in the cozy rooms. We will provide you with delicious vegetarian, organic food made from local ingredients to nourish your body, mind, and soul.
Autumn Yoga Holiday Weekend
Click on the button below to be taken to the "Yoga with Magdi" website, where full details of the holiday weekend can be found.
Accommodation for Residential Courses (Yoga Retreats)
Students/guests are accommodated in either of the 2 gîtes, Le Marronnier or Le Petit Bouleau, here at La Petite Guyonnìere.
All the facilities at La Petite Guyonnìere, including the heated swimming pool, are available for residential guests. Guests attending 1-day workshops are also at liberty to make use of the pool and other facilities.
We focus on the contemplative aspects of yoga, with an emphasis on breathing and meditation, to promote physical, mental, and emotional well-being.
Classes take place within the extensive gardens at La Petite Guyonnìere and on the sun terrace, beside the swimming pool. In the event of poor weather, classes can be taken in our Yoga studio.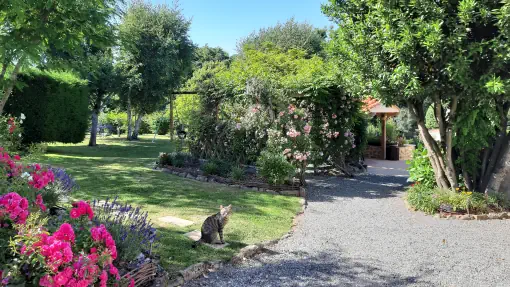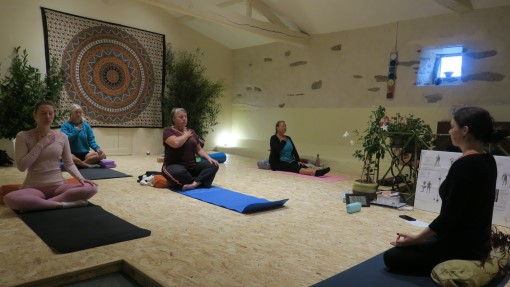 If you are interested in the Yoga retreats, wellness retreats, Yoga classes, or any of the other events, or you have any questions, please feel free to reach out to Magdi:
yogawithmagdi@gmail.com
+33 649 93 05 32
22 Rue du Docteur Dorion
85220 Apremont, France
Contact Magdi for Information about Yoga Retreats