Holiday Rentals in France at La Petite Guyonnière
Welcome to La Petite Guyonnière. Our beautiful property consists of two comfortable, spacious gîtes that are fully equipped and typically French. Set in our extensive gardens is a large, heated, swimming pool, surrounded by a sun terrace. There are shady seating areas, private outside dining facilities, outdoor games and activities, and an indoor games room.
We are located in a peaceful hamlet, only 2.4 km away from the charming village of Maché. Our 5-acre site overlooks the scenic farmlands and woodlands of the region, giving you a sense of tranquility and connection with nature. You can enjoy the fresh air and the stunning views of the Atlantic coast, which is easily accessible from our site. Our rural location is ideal for those who seek a relaxing and spacious getaway.
Rental Accommodation Options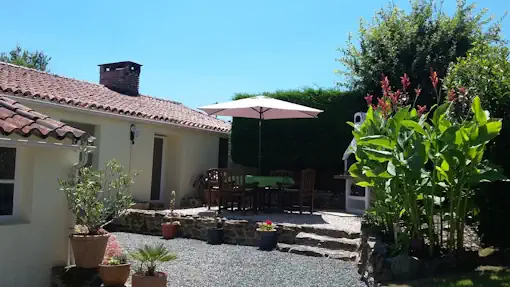 Spacious 2-bedroom cottage with private terrace.
From £600 per week.
Large 4-bedroom farmhouse.
From £620 per week depending upon occupancy.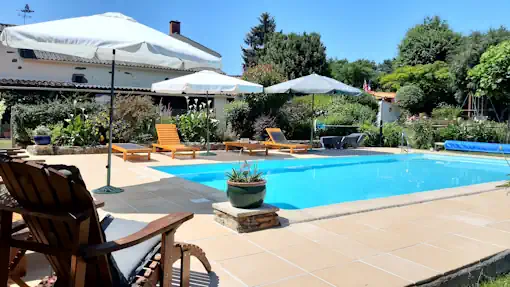 Exclusive Use
Both properties.
From £1700 per week
Our beautiful grounds offer peace and tranquility in shaded seating areas as well as games and activities for all age groups. There is a petanque court, B-B-Qs, an ornamental pond, and a swimming pool, with a large sun terrace. In our indoor games room, you can play table tennis, and darts, use the free-weights, and relax completely with yoga classes (on request).
If you're looking for a scenic and relaxing getaway, you'll love the area around us. There are charming villages nearby, where you can explore the local culture and cuisine. You can also visit bigger towns that have lively markets every week, and discover the rich history of the region. And if you enjoy nature and wildlife, you'll be amazed by the diversity and beauty of the flora and fauna here. It's a paradise for anyone who loves the outdoors.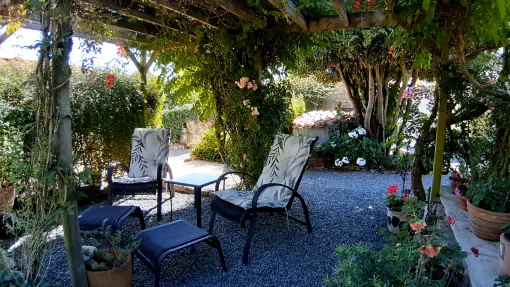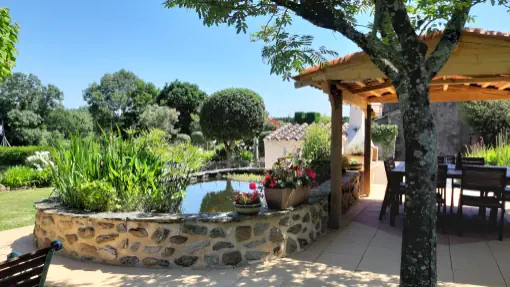 Quiet country lanes and dedicated cycle tracks make our local area ideal for walking or more serious training. For triathletes, the largest stretch of open water in Vendée (170 hectares) is on our doorstep.
You can also enjoy the magnificent sandy beaches of the Atlantic coast. In summer, the nearest beach, at St Gilles-Croix-de-Vie, is just 30 minutes away by car. It's a great place to relax and enjoy the sun.
Holiday Rentals in France at La Petite Guyonnière
Whether you want to explore the local attractions or just relax in a peaceful setting, La Petite Guyonnière is the perfect place for your French holiday. Our location offers easy access to the nearby sights and activities, as well as a cozy retreat to unwind and recharge. You can enjoy the best of both worlds, being active or inactive, depending on your mood, at La Petite Guyonnière.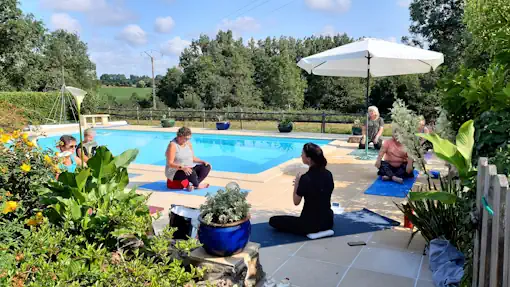 What our guests have said ……
Fernando Echeveste - USA (June 2023)
La petite Guyonnière is simply a magical place nested in the French countryside. Chris and Diane, the owners, are lovely people and pour their love into the place creating a beautiful space for guests to enjoy. I recently co-hosted a summer wellness retreat where people were able to disconnect from the external world and submerge themselves in a tranquil, peaceful, and harmonious atmosphere, enjoying different wellness activities in the beautiful gardens and relaxing by the heated swimming pool. Thanks a lot for a wonderful week!
Sandy and Kate McIntosh - Scotland (Jul 2023)
Another fantastic holiday at LPG. Chris & Diane are the perfect hosts, the cottages are well organised with everything you need. The gardens and pool are superb and very well maintained – Chris & Diane treat you as family and nothing is too much bother for them. They are very knowledgeable of the area and are always visiting places and trying restaurants to recommend to guests. Very relaxing break, recharged and ready for another year. See you in 2024!
Yves Laurent - France (Aug 2023)
"Très bon séjour en famille"
Nous sommes venus à 7 adultes et 4 enfants. Nous avons trouvé un gîte confortable entouré d'un beau grand jardin bien clôturé. La piscine est grande et appréciable.
Les hôtes Diane et Chris sont très gentils et efficaces.
Check out our Interactive Map for information on local attractions, restaurants, bars, and places to visit.