.... quality holidays in the Vendée
  Welcome to our gite holiday accommodation in the Vendee 
La Petite Guyonnière is a large, charming, property with a heated swimming pool, located in the Western Vendée.  We offer quality, good value, gite holiday accommodation.  There are two gites with 4 rental options sleeping from 4 to 16 people, providing affordability, flexibility, comfort and convenience.
The property is set in 10,000 m/sq of established gardens, with a further 12,000 m/sq of field and woodland.  The high aspect has sweeping views over fields and woodlands, yet is only 25 minutes from glorious, wide, sandy beaches.
Our unique location provides a convenient base from which to explore the local area, and a peaceful space in which to relax, upon your return. 
So, whether you seek lively beaches, country walks, or spending lazy hours beside our amazing swimming pool – look no further for your gite holiday accommodation in the Vendee than La Petite Guyonnière
  About Our Gites 
The site was originally a large farm and dates back to the mid 19th century. It's been a popular holiday destination since 2001.
La Petite Guyonnière is divided into two gites, a farmhouse "Le Marronnier" and a attached cottage "Le Petit Bouleau". Each gite is tastefully decorated, fully equipped and above all, comfortable.
When reserved together, the two gites can accommodate up to 16 people, which is a great option for large families or groups.
There is nothing cramped about our gites, everything is spacious. That also applies to our beautiful gardens and the superb, heated swimming pool.
There is plenty of off-road parking, and space within our smaller barn to store bicycles and top-boxes, etc.
Le Marronnier is a lovely example of a traditional Vendée style  farmhouse. It sleeps up to 12 people in 4 large, and tastefully furnished, bedrooms. It is equipped to ensure that your stay is as comfortable as possible.  A home away from home.
Le Petit Bouleau is a charming cottage that comfortably sleeps up to 4 people, in 2 large bedrooms.  Like the adjoining farmhouse, it is spacious and well equipped. It has it's own designated outside space to the rear, which leads out into the gardens.
  To discover more about each gîte, click on the photos 
Forecourt – Off-road parking
Terrace at the rear of Le Petit Bouleau
'Sunset' bench overlooking fields
Outside dining for Le Marronnier
Shady seating in the arbor
'Rose wall' at the rear of Le Petit Bouleau
Porch at the front of Le Marronnier
  Facilities and Activities 
Our swimming pool is situated between the accommodation and 2.5-acre field.  It is fenced, with a padlocked gate and an alarm.
The pool is 10m x 5m and is suitable for exercise as well as for fun, however, it is not deep enough for diving.  It is heated from May through to October.
The large sun terrace features sun loungers and chairs, parasols and a solar heated shower.  Beside the pool there is a pirate ship called "The Green Pig".  Sadly it doesn't float but it's fun to play on nonetheless.
The "Games Room" is in our small barn, with access from the courtyard.  Inside are a table-tennis table, a dart board, table football, a selection of free-weights and some bicycles.
Also stored here is the games equipment for all the outside activities such as football, badminton and petanque.  There is also a selection of buckets and spades etc, for when you visit the beach.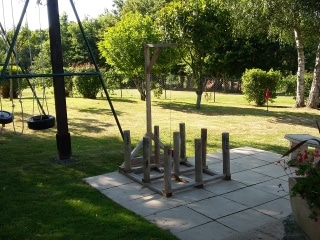 Our range of outdoor games provides fun activities for all ages and abilities, they include:
Swings
Petanque
Badminton
10 Pin Bowling
Selection of "Medieval" games
Football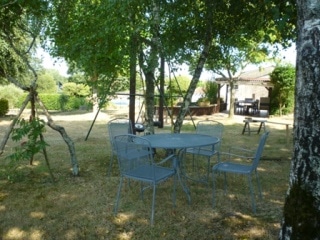 Ouside space is something that we have plenty of, with 10,000 m² set aside as gardens and another 12,000 m² used as grazing for horses.  For the past 9 years we have been host to "Hermine".  She is a large, but extremely gentle, retired trotting horse (le Trotteur Français (the French Trotter).
There are a number of shady seating areas with tables and chairs, which can be moved around to suit your tastes. As well as flower beds, shrubs and trees, we have made areas for playing football, a boules court and space for badminton.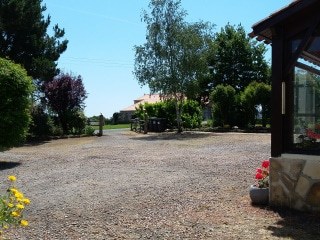 The courtyard is at the front of the property, where there is sufficient off-road parking for up to 8 cars.  It is South-facing, therefore it gets extremely hot during the day, please be careful about what is left inside cars.
Leading from the courtyard are the entrances to both gites, the indoor games room, and via a passageway, the gardens.
The laundry has a coin-operated washing machine.  There are sinks, a vacuum cleaner, iron and ironing board, clothes dryer, pegs, bucket and mop, etc.  Directly to the rear of the laundry there are 2 rotary washing lines.
This room is also our recycling centre.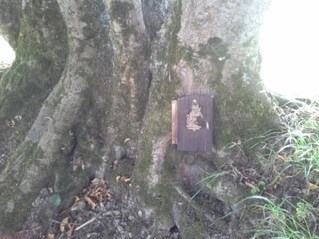 Have we mentioned the "Tree Fairies"?  They are around, although, you will have to look really hard to find them.
Gallery
To see more images of our beautiful property just follow this link…..
  Guest Reviews 
We are proud of our ability to provide quality, gite holiday accommodation in the Vendee.  Our guests have written some great reviews, so if you wish to read more of them, visit our Guest Review Book.
  Prices 
Prices vary by season and are shown in full in the pricing tables set out below.  Prices in Euros are at the exchange rate current at the time of booking.
Le Petit Bouleau
The Cottage
May and Jun – £500 per week

Jul and Aug – £680 per week

Sep – £500 per week

Security Charge – £100 per  week (Refundable)

Cleaning Charge – £30
Le Marronnier
The Farmhouse
May and Jun – £980 per week

Jul and Aug – £1470 per week

Sep – £980 per week

Security Charge – £200 per  week (Refundable)

Cleaning Charge – £40
Le Marronnier
Ground Floor Only
May and Jun – £680 per week

Jul and Aug – Not available

Sep – £680 per week

Security Charge – £200 per  week (Refundable)

Cleaning Charge – £30
La Petite Guyonnière
Both Properties
May and Jun – £1480 per week

Jul and Aug – £2150 per week

Sep – £1480 per week

Security Charge – £200 per  week (Refundable)

Cleaning Charge – £50
Free Wi-Fi
Bed linen, bath mats and tea towels
Changeover days in June, July and August are on Saturdays.  At other times they are flexible but you will need to contact us to make arrangements.
Off-road parking
-Hand and bath towels are not provided
-No tourist tax
-No surcharges for electricity, water or gas
Thank you for looking at our website, what you see here is exactly what you get.  Our returning-guest rate is high, which we believe says it all.  Take a look at our 'Guest Reviews' and read what others have already discovered.  For great value gite holiday accommodation in the Vendee, make a reservation today.