La Petite Guyonnière
..... quality holidays in the Vendée          
  Choose La Petite Guyonnière For Your Holiday Accommodation in France 
Welcome to our gîtes in the Vendée.  Our rural location offers plenty of open space, clean air and tranquillity.  As well as a large, heated, swimming pool we provide games and activities for all ages.  Be as active or inactive as the mood takes you, but bored…. never!
La Petite Guyonnière is a charming property, with beautiful gardens and a heated swimming pool.  Located in the Western Vendée we offer quality, good value, gite holiday accommodation.  There are two gites, sleeping up to 4 and up to 12 people respectively, providing affordability, comfort, and convenience.
The property is set in 10,000 m/sq of established gardens, with a further 12,000 m/sq of field and woodland.  The high aspect has sweeping views over fields and woodlands, yet is only 25 minutes from glorious, wide, sandy beaches.
Our unique location provides a convenient base from which to explore the local area and a peaceful place in which to relax, upon your return.
So, whether you seek lively beaches, country walks, or spending lazy hours beside our amazing swimming pool - look no further for your gite holiday accommodation in the Vendee than La Petite Guyonnière.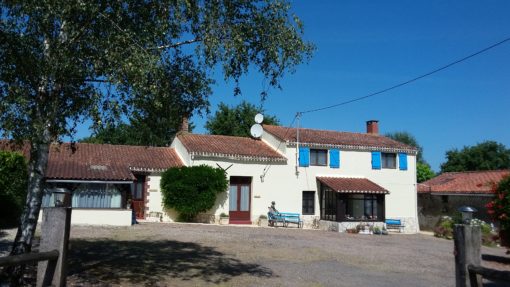 About Our Gîtes 
The site was originally a large farm and dates back to the mid 19th century. It's been a popular holiday destination since 2001.
La Petite Guyonnière is divided into two gites, a farmhouse "Le Marronnier" and an attached cottage "Le Petit Bouleau". Each gite is tastefully decorated, fully equipped and above all, comfortable.
There is nothing cramped about our gites, everything is spacious. That also applies to our beautiful gardens and the superb, heated swimming pool.
There is plenty of off-road parking, and space within our smaller barn to store bicycles and top-boxes, etc.
Make a Reservation
To make a reservation now or to enquire about availability, follow this link…..
Le Marronnier is a lovely example of a traditional Vendée style  farmhouse. It sleeps up to 12 people in 4 large, and tastefully furnished, bedrooms. It is equipped to ensure that your stay is as comfortable as possible.  A home away from home.
Le Petit Bouleau is a charming cottage that comfortably sleeps up to 4 people, in 2 large bedrooms.  Like the adjoining farmhouse, it is spacious and well equipped. It has it's own designated outside space to the rear, which leads out into the gardens.
  To discover more about each gîte, click on the photos 
Le Marronnier - Prices range from £980 to £1470 per week (Sleeps up to 12)
Le Marronnier - (Ground Floor Only) - Prices range from £680 to £980 per week (Sleeps up to 8)
Gallery
To see more images of our beautiful property just follow this link…..
  Guest Reviews 
We are proud to provide our guests with good value for money, quality, holiday accommodation.  Our guests have written some great reviews, so if you wish to read more of them, visit our Guest Review Book.
Thank you for looking at our website, what you see here is exactly what you get.  Our returning-guest rate is high, which we believe says it all.  Take a look at our 'Guest Reviews' and read what others have already discovered.  For great value gite holiday accommodation in the Vendee, make a reservation today.