.... quality holidays in the Vendée
Terrace at the rear of Le Petit Bouleau
'Sunset' bench overlooking fields
Forecourt - Off-road parking
'Rose wall' at the rear of Le Petit Bouleau
Shady seating in the arbor
Porch at the front of Le Marronnier
Outside dining for Le Marronnier
  Contact us today for Reservations or Information 
Need more information about our gites or the area in general?  Want to check on availability or make a reservation?  Then contact us today.  Whichever method you prefer, we will make every effort to return your call or e-mail with the minimum of delay.
We look forward to hearing from you.
Chris and Diane Steadman
167 La Petite Guyonnière
85190 Maché
FRANCE
It's so easy to contact us at La Petite Guyonnière.  You can use any of the following methods, and be assured of a swift reply:
0044 (0) 7766240588
Alternatively, use our Contact Form: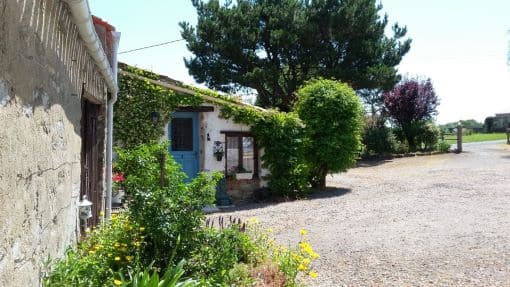 Contact Us 
To enquire about availability, or to make a reservation please use our Reservation Form.  This will ensure that we have all the information we need to get back to you as quickly as possible.
  Reservations 
Above all, it is our wish that you have the best holiday possible at La Petite Guyonnière.  That begins with all of your questions or queries being answered quickly.  So, please use our "contact form" and contact us for reservations or information.  Don't forget to tell us about your needs or any special requirements.