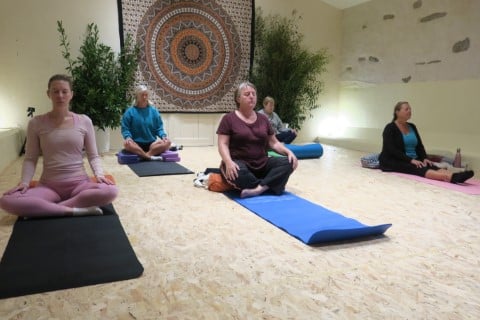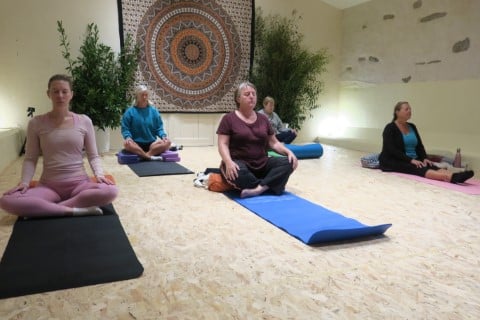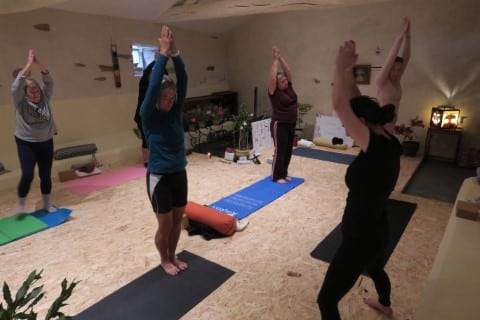 First Yoga Workshop
The first Yoga workshop took place at La Petite Guyonnière yesterday and was a resounding success, plus a great stepping-off point for similar events in the future. The day was an Introduction to Yin Yoga and the 5 elements of TCM, attended by 5 ladies with varying degrees of previous Yoga knowledge. 2 had an experience of classes run by Magdi, 2 had attended a variety of classes in the UK, and 1 was a complete novice. By the end of the day, everyone was tired, chilled out, and in agreement that they had enjoyed the various elements and had gained from them.
The morning program included Yang to Yin Yoga, a theory introduction to Yin Yoga, and the 5 elements of TCM. Then in the afternoon the practical application of gentle Yin Yoga, the 5 elements, and their meridians. It wasn't all work as a splendid, and plentiful, vegetarian lunch was provided along with time to explore the grounds and gardens.  Sadly, the weather didn't allow any outdoor classes to take place and a dip in the pool was called off, but the closing circle with a glass of bubbles was popular.
Finally, all that remains to be done is to congratulate Magdi on a well-organized and most professional 'first Yoga workshop' at La Petite Guyonnière.