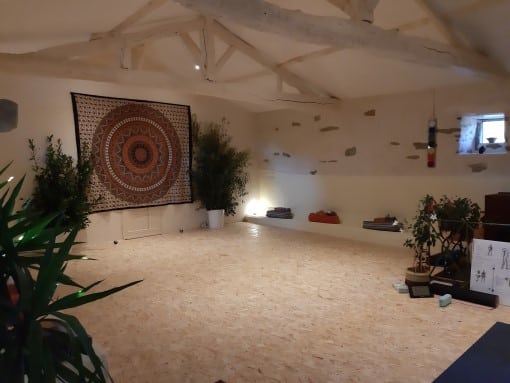 Games-room one minute — Yoga Studio the next!
It's amazing what a few plants, shrubs, and wall hangings can do to what started life earlier this year as a rather dark and dusty barn. Today is the first time that a Yoga class will take place at La Petite Guyonnière, in our new studio.  We are obviously very pleased with the result, and to have a multi-use space that can be quickly changed around is going to be a real bonus for our business.
The 1-Day Workshop starting this morning is already making good use of the yoga studio, because it is raining! How typical is that? A week of sunshine and then on a day that really matters, it rains. Never mind, I'm sure that all the students will enjoy the day and give some positive feedback this evening.
Whilst we can understand her frustration with the weather, Magdi is so professional that no one would have guessed, and having to use our new yoga studio pleased her no end. The experience she gains during this weekend will really stand her in good stead for the planned Yoga Retreats next year.