…..quality, gîte holiday accommodation in the Vendée, France.
One page of tourist information on the Vendée cannot possibly do this beautiful area justice as there so many things to see and do.  Many of them are close to La Petite Guyonnière and you could not go far wrong visiting the Vendée Tourisme website.  So, if you want culture, history, nature or just plain fun, there is no better place to stay than here at La Petite Guyonnière. No matter how many times you visit, there will always be plenty to keep you entertained.  We are always available to offer advice or information on attractions and activities in the local area.
Exploring the area is a pleasure due to the extensive and well-maintained road network. Outside of major towns, the traffic density is low, so you spend less time sitting in traffic and more time exploring.  Everything is within easy reach, historical sites, lively coastal resorts or picturesque towns and villages.  The  Vendée boasts over 160 km of wide sandy beaches.  Close by there is the calm of St Gilles-Croix-de-Vie (28km), or if you prefer hustle and bustle, then there is St Jean-de-Monts (33km).  The countryside is diverse, from open fields to woodland, marshland to sand dunes, the Vendée is perfect for ramblers and nature lovers.
Make a reservation
To make a reservation now or to enquire about availability, follow this link…..
Our country lanes, open countryside and woodlands make walking a real pleasure.
The same country lanes, open countryside and woodlands are also a pleasure for runners, but you pass them quicker.
For "pleasure cycling" there are over 1,800km of dedicated cycling tracks and trails.
The Vendée Tourism website has all the information that you could possibly need to ensure a great cycling experience.
The Vendée boasts some amazing bird watching opportunities, the great variety of habitat encourages species of all kinds. The list is long and fully documented on this website avibase.bsc-eoc.org
For serious "road cycling" the options are infinite. Country roads are quiet, well maintained and other vehicles will give you plenty of space when passing.
This area is ideal for serious training regimes, particularly "Triathlon". The terrain is varied, open water is close-by, the largest lake in the Vendée (170 hectares) is only 2.5km away.  The road network is extensive, French drivers are "cycle friendly" and there are plenty of off-road tracks.
Local Amenities - Mache (2.4km)
"Le Fournil d'Elo et Steph"
"The best bread and cakes"
"Oh Mine De Rein"
"Epicerie Machéenne"
"Laëtitia Coiff"
"La Maison des Délices" (Biscuit Factory)
Biscuits/Cakes/Ice-creams etc
Local Amenities - Apremont (6km)
"Le Cabanon"
Mini-Golf Course
Attractions In The Local Area
The largest in the Vendée (170 Hectares)
Maché (2km)
16th Century Chateau
Apremont (6km)
Aizenay (11km)
Aizenay (11km)
Pizzeria next door
Your holiday in the Vendée would not be complete without a visit to Puy Du Fou simply the "Best Park" in the world.  On your visit you will be transported through 2000 years of history, it's a memorable experience that is unique to the Vendée.
At just over an hours drive, the park is a sensational experience that you will want to repeat again, and again.
"Our personal record is 4 visits in one year"
Sometimes being on holiday is all about relaxing.  Sometimes it's about adventure, thrills and excitement.  So, whatever type of holiday you favour, there are so many things to see and do close to La petite guyonnière that being bored will not be one of them.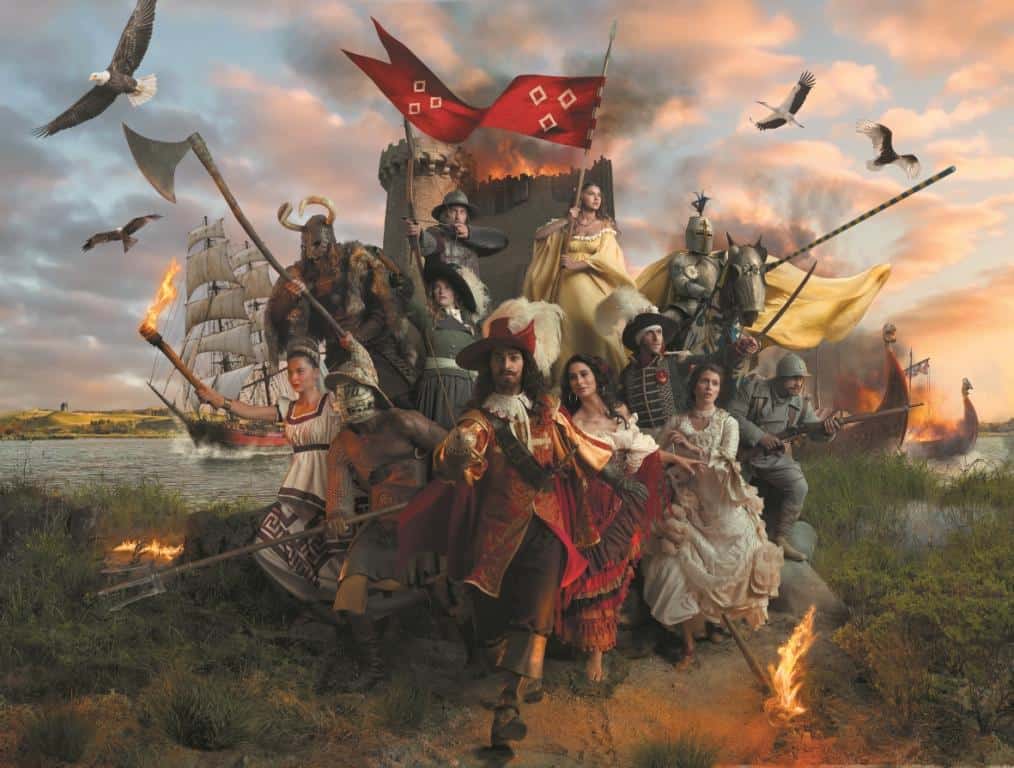 La Petite Guyonnière is easily reached from channel ferry ports, two airports and high speed rail links.  Whichever method you use your holiday can start the same day.
Make a reservation
To make a reservation now or to enquire about availability, follow this link…..
FLASH - ROADWORKS
Upgrades to the D948, Challans to La Roche-sur-Yon, are now being carried out on the stretch of road that goes past La Petite Guyonnière.  The recommended route into La Petite Guyonnière is via the Maché turnoff.  Follow the road into Maché, turn right at the Boulangerie, follow the road as it bends to the right.  After about 1.5km take the fork to the right.  Continue for about 1km and our property is on the left, just over the crest of the hill.  See the map below.
The Vendée can be reached via two motorways, the A87 and A83, both have sections that incur tolls.  In addition, there are numerous "route departmental" (RD) roads, many of which are dual-carriageway.  Above all, the network is extensive and well-maintained.
From Folkestone via Eurotunnel. Distance to La Petite Guyonnière = 658km.  Time 6h 30m (approximately).  Shortest  & Quickest Route - Via A28 - Tolls.
There are many ferry routes available. Prices vary, as do driving times from the port of arrival to La Petite Guyonnière.
Ports - Carriers - Distances - Driving Times - Toll Roads
Speed Limits in France
Motorways - 130 km/hr (110 km/hr in rain)
Dual carriageways – 110 km/hr
Main roads – 80 km/hr
Built-up areas – 50 km/hr but can be as low as 30 km/hr
Fuel
Our nearest petrol station is in Maché, however, it is an independant station and thus more expensive.  The closest alternative is the petrol station at Hyper-U, in Aizenay (11km).  This station has a full range of fuels and, in addition, has free recharging points within the parking area of the main store.
Travelling by Air or Rail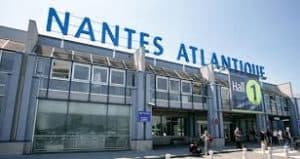 Nantes Atlantique
Nantes Atlantique Airport is 67km from La Petite Guyonnière, approximately 55 mins.  Car hire is easy with many companies just 2 mins walk from the main terminal.
La Rochelle-Ile de Ré
La Rochelle-Ile de Ré is further away at 109km, approximately 1h 37m.  Again, car hire is easy, with companies less than a 2 min walk from the main terminal.
TGV
The Vendée has a good railway network.  The nearest TGV station is at la Roche-sur-Yon (26km) with connecting local trains to Challans (10km).