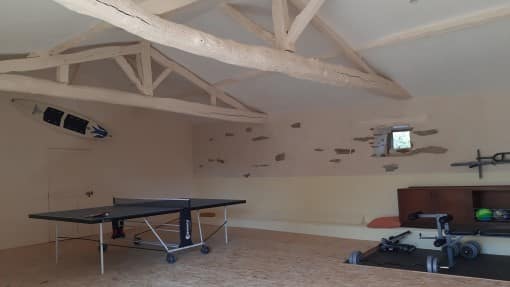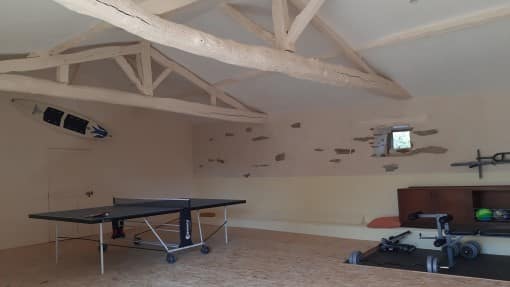 The games-room renovation project.
We never usually start this type of project until the late Autumn and Winter. But this year due to Covid-19 and a lack of guests we could begin the long task of renovating our small barn, used as a games-room, in the Summer. The aim is to turn it into something looking more like a games-room and less like an old cowshed.
Whilst the barn was functional as a games-room, it was a bit dusty and prone to spiders. The new games-room had to be multi-functional, with all the original facilities like table tennis, darts, etc. it also had to work as a Yoga Studio.
This really was a 'start at the top, and work your way down' project. There were also 'I wish I hadn't started this' moments,  but a cup of tea and a kick up the backside from Di always put me back on track.
There is no quick-fix on a task like the renovation of a barn because nothing is horizontal, nothing is truly vertical, nothing is square, and the list goes on. To top it all, everything is over 200 years old so some of it is a bit crumbly, whilst some of it, like the oak beams, can resist all efforts to improve them.
Overcoming the difficulties and solving the problems is just part of the process of renovation and in many ways forms part of the pleasure when the job is complete.  All told it took about 3 months and the result, I think you will agree, is rather pleasing. What we need now is lots of guests eager to use the games and lots of Yoga classes taking place, during poor weather, to make it all feel worthwhile.