La Petite Guyonnière Photos
This selection of La Petite Guyonnière photos concentrates on our beautiful gardens, the swimming pool, and Leon, our permanent resident.
Our gîtes are set in 5 acres of established gardens, on a hilltop, surrounded by fields and woods. The gardens are completely fenced in, so they are child-friendly and offer huge scope for games or just running around.
Then of course there is our superb, heated, swimming pool.  Just perfect for those classic, lazy, days in the sun.
Albezia tree in full bloom.
Selection of Spring flowers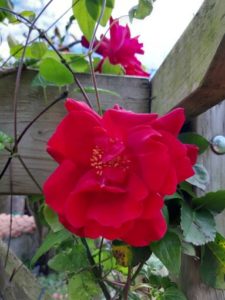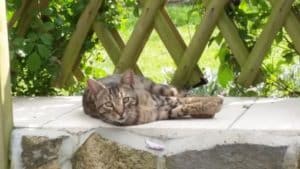 Just one thing – I live here!.
Seating area on the sun terrace.
Terrace and BBQ area beside the pond.
Am I just handsome, or what?
"Catalpa bignonioides" or "Indian bean tree".  It's not from India and doesn't grow beans, but what's in a name?
Enzo and Desi just chatting over the garden fence.
La Petite Guyonnière photos will be updated, so please check-in again to see what's new.