Essential holiday information
Essential holiday information for your stay at La Petite Guyonnière, which covers a wide range of topics.  From our facilities and activities to reservations and how to pay.  We may well have missed something that is important to you so if we have then please let us know what it is.
Facilities and Activities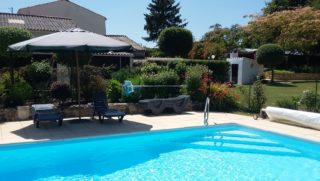 Our swimming pool is situated between the accommodation and 2.5-acre field.  It is fenced, with a padlocked gate and an alarm.
The pool is 10m x 5m and is suitable for exercise as well as for fun, however, it is not deep enough for diving.  It is heated from May through to October.
The large sun terrace features sun loungers and chairs, parasols and a solar heated shower.  Beside the pool there is a pirate ship called The Green Pig.  Sadly, it doesn't float but it's fun to play on nonetheless.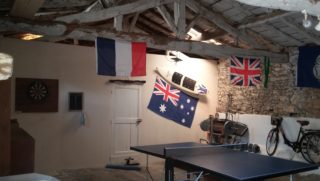 The games room is in our small barn, with access from the courtyard.  Inside are a table-tennis table, a dart board, a selection of free-weights and some bicycles.
Also stored here is the games equipment for all the outside activities such as football, badminton and petanque.  There is also a selection of buckets and spades etc, for when you visit the beach.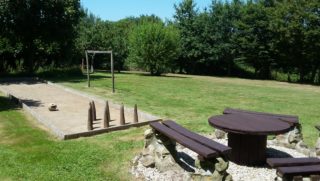 Our range of outdoor games provides fun activities for all ages and abilities, they include: Swings, Petanque, Badminton, 9 Pin Bowling, Selection of medieval games and Football.
Outside space is something that we have plenty of, with 10,000 m² set aside as gardens and another 12,000 m² used as grazing for horses.
There are a number of shady seating areas with tables and chairs, which can be moved around to suit your tastes. As well as flower beds, shrubs and trees, we have made areas for playing football, a boules court and space for badminton.
The courtyard is at the front of the property, where there is sufficient off-road parking for up to 8 cars.  It is South-facing, therefore it gets extremely hot during the day, please be careful about what is left inside cars.
Leading from the courtyard are the entrances to both gîtes, the indoor games room and via a passageway, the gardens.
The laundry has a coin-operated washing machine.  There are sinks, a vacuum cleaner, iron and ironing board, clothes dryer, pegs, bucket and mop, etc.  Directly to the rear of the laundry there are 2 rotary washing lines.
This room is also our recycling centre.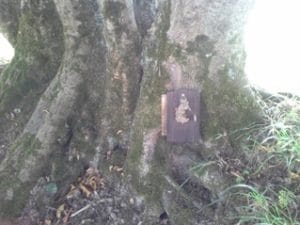 Have we mentioned the tree fairies?  They are around, although, you will have to look really hard to find them.
Where Are We? – Absolutely essential holiday information!
Reservations, availability or questions?
   From our Contact Us page either use our reservation form or click on the check availability button to enquire about availability.  Alternatively send an e-mail to lapetiteguyonniere@orange.fr
     We will return a reservation form to be completed together with our terms and conditions.
      Return the completed reservation form with confirmation that the deposit has been paid.
     Upon receipt of the completed reservation form, and deposit details, we will send a reservation confirmation.
         Prices are shown in euros and payment can be made in euros or pounds sterling.  Prices in pounds sterling are at the current rate of exchange at the time of booking.
25% Deposit payable via bank transfer when returning the reservation form. The remainder is due not later than 8 weeks before the start of the rental period.
Check-in and Check-out Times
Check-in time is not before 16.00hrs on the day of arrival, unless an alternative time has been pre-arranged.
On the day of departure check-out time is 10.00hrs.
Provision can be made for baggage to be secured for early arrivals.
Travel cot with linen and high chair available on request.
Smoking is not allowed in either property.
Sorry, no pets allowed.
Very few shops open on Sundays, therefore, try to do your food shopping prior to arrival.  As a rule, most shops close at 19.00hrs.  Hyper-U in Aizenay (11km) is the nearest large supermarket and does open on a Sunday morning (until 12.30hrs) in July and August only.